David Hannan's latest DVD 'Ningaloo - Where the Desert meets the Sea'
is available now
Be the first to own this extraordinary DVD and support the Save Ningaloo Campaign in its fight for Ningaloo Reef. $32.95 plus $5.50 postage
The Save Ningaloo Action Guide
Fundraising to keep the campaign alive. Make a donation, buy a Coral Trout print
Promoting the campaign to others Webmasters

Lobbying Personalised letters, faxes or phone calls to politicians are very powerful.
Politicians contacts. Write letters to the editor.
SUNDAY TIMES - [email protected]

THE WEST AUSTRALIAN - [email protected]

Letters to the Editor
WA Newspapers
GPO Box NIO27
PERTH WA 6843

THE AUSTRALIAN - [email protected] - (Do not send attachments)

Letters to the Editor
GPO Box 4162
Sydney NSW 2001


N.B. ALL LETTERS MUST INCLUDE FULL NAMES, ADDRESSES AND TELEPHONE NUMBERS

If you are in a position to assist with the success of this campaign, please ...
1. Online via secure form (Tax deductible)
2. Fax or Snail Mail: Make cheques or money orders (clearly marked 'Save Ningaloo') payable to -
The Conservation Council of WA
City West Lotteries House
2 Delhi St,
West Perth,
Western Australia, 6005
Fax: (08) 9420 7273 (international +61 8 9420 7273)

Donations to the Conservation Council are tax deductable.
Download a convenient form to print out (.rtf format - read in any word processor)
3. Donate by phone - For supporters in Australia call the Conservation Council of WA
on (08) 9420 7266 or international +61 8 9420 7266

4. Donate by email - include your name and phone number in your email and we will phone you back to get your credit card details (please don't email your credit card details to us - email is not secure).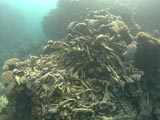 Contact the Politicians
Contact relevant politicians here.


Please place a link to this site
using one of these images.

Please help to continue the Ningaloo campaign