THE CORAL COAST RESORT - WHAT'S PLANNED
We thought we'd let the developer's own pictures tell the story of the ethos, type and size of the proposed development. You may wish to visit the developers own website. http://www.coralcoastresort.com.au
The proposed resort sits right on the boundary of Ningaloo Marine Park, beside a Sanctuary Zone.

The developers admit that water quality will be negatively impacted by the construction over an area of 9 square kilometres for a period of up to five years.
The Coral Coast Resort Development group proposes an inland marina with six embayments with beaches and an artificial reef within the marina.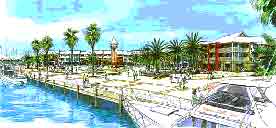 They plan a dredged entrance channel, 100 metres wide, jutting from the coast with associated breakwaters. This requires dredging of an area of Bateman Bay and building two groynes (~200m long) extending out from a previously straight coastline.
These groynes are to prevent the dredged channel from blocking up, as wave and tidal action carry sand deposits. The presence of groynes will cause disruptions in the tidal and current movements, causing sand buildup in new areas.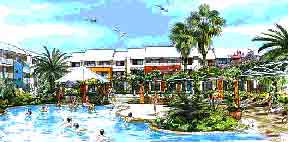 North of the entrance channel along the coast of Bateman Bay, they plan a stretch of barbecue and recreation areas, car parking facilities and a restaurant, this is a known turtle nesting area.
The development will extend inland approximately 1.6 km, and stretch approximately 1.5 km along Bateman Bay (figures derived from CCMD map figure 3.)
Around the six embayments the planners have arranged areas for residential and tourist accommodation as well as for commercial purposes.
The residential buildings include 200 private and 170 staff dwellings, this would be 120 single house lots, 80 semi-attached apartment lots and group housing lots. These are to be located around the northern embayments and along the Bateman Bay coast.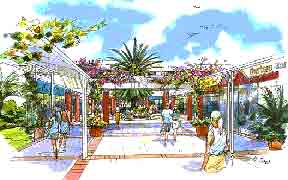 The tourist accommodation is comprised of apartments, including the Marina Village Resort, 100 caravan and 20 chalet sites, a backpackers lodge for 60 people, 20 tourist villas, 17 townhouses and time-share buildings.
The commercial and entertainment facilities would be a variety of food stores, restaurants etcetera, also other services such as carpark facilities, boat-trailer parking, two boat launching ramps, a service station site, and a whole service area for power, effluent treatment and landfill. This area has the future capacity to be expanded with the view of supporting the Coral Bay townsite in waste disposal. Additionally an industrial 'cell' is also planned.
The developer's Public Environmental Report documents (PER) can be viewed at the Department of Environmental Protection library (141 St Georges Tce, Perth).
Part of the PER can be found at http://www.coralcoastresort.com.au/commun_2.htm