MEDIA RELEASES and CLIPPINGS

Media Alert, Thursday 31 October 2002


Turtles "see red" and march on Gallop to announce major action over marina resort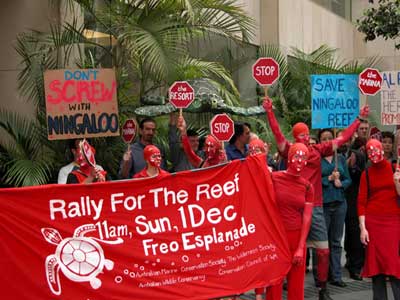 Today at 12.45pm a team of red "Ninga-turtles" and supporters will gather outside the Premier's office building at 197 St George's Terrace. They will announce the community's response to the Environmental Protection Authority's failure on Monday to recommend a decisive 'no' to the marina resort, despite raising serious concerns about it.

News of the EPA's decision that puts obstacles in front of the development but still leaves a pathway for it to proceed has shocked and angered many in the community.

Paul Gamblin, Save Ningaloo Campaign spokesperson, said, "The phones started ringing as soon as word got out and haven't stopped since. We can't keep up with the emails and offers of help streaming in from all over the state, the country and from overseas."

"Obviously this issue has touched a deep nerve in the community and passions are running high. The developers are treating the community as fools by trying to tell us all that this development will help the environment. The community wants to see real leadership from government on this issue - now."


What: People dressed as turtles will gather at the Premier's office building for the announcement of the community action. They will be welcomed by supporters holding banners, placards and props.
Where: 197 St George's Terrace, Perth (corner of Mill Street and St George's Terrace).
When: 12.40pm (to capture the turtles' arrival at 12.45pm), Thursday, 31 October 2002.


Media Contact: Paul Gamblin, Save Ningaloo campaign spokesperson
Send automated letters to stop the resort