Well known Western Australian Sculptor Ben Juniper today joined the campaign to save Ningaloo Reef by building a giant loggerhead turtle on Cottesloe Beach. The sand sculpture will help promote the Save Ningaloo Reef Sand Sculpture Competition to be held as part of the Sea Dragon Festival, an environmental fun day, on Sunday 17 March 2002.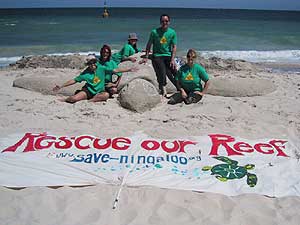 "By involving families and groups of friends in a fun event focussing on the threatened marine creatures of Ningaloo Reef we hope to raise awareness of what WA stands to lose if the marina resort planned for Ningaloo is approved by the Gallop Government."
Ben Juniper will also help judge the winners of each category on the day.
Competitors entered in the event are invited to use sand, water and their imaginations to create 'creatures of Ningaloo'. The competition will be divided into three categories with teams of no more than four people. The three categories are:
8 years and under
15 years and under
all ages.
In each category good prizes can be won. There is also a special price for the sand sculpture, which best expresses, the issues of the 'Save Ningaloo Reef' campaign. The competition starts at 10.00 with the results being announced around 14.30.
Ben, Larry the Loggerhead, and friends will be in front of Indiana Teahouse for photos and interviews between 11am and noon today.
WA's Ningaloo Reef is the longest and most spectacular fringing coral reef in the world. It is a sanctuary for threatened marine wildlife. In the heart of this unique place developers plan to build a resort and marina which would have devastating consequences. It would destroy turtle nesting grounds, kill, injure or frighten away dugongs, whales and whale sharks and cause pollution and erosion.
The Save Ningaloo Campaign supports the positive alternative which is a community-led process to develop a positive, sustainable future for the whole region.
For more information please call Eugenie Stockmann or David Mackenzie at The Wilderness Society